Sydney End of Lease Cleaning
Our end of lease cleaning package is one of the most extensive ones, offered in Sydney. If you are worried about getting your entire bond back, then don't hesitate to give our cleaning team a phone call. We have been working together with landlords and agents for many years, and this is why we know exactly what are their expectations when a resident moves out. A professional bond cleaning is usually required by most lease agreements, which guarantees that you will receive your money back, moreover, it will help you save both time and money.
To ensure a prompt and efficient service, we have local cleaners located all around the city. This also helps us to provide the bond cleaning service and any other of our cleaning services at an affordable price because of the shorter distance we need to travel to your property.
What Our Move Out Cleaning Service Include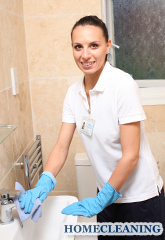 The specific task list, which our cleaners follow, includes but is not limited to:
Kitchen
In the kitchen, we'll sweep, vacuum and mop the flooring, de-scale and de-lime any tile work (where it is possible), as well as around your walls and the entire sink area. We will clean all cupboards, inside and out and also will pay special attention to the oven, splashbacks, hobs and range.
Bedroom
All floors in all bedrooms will be mopped or vacuumed. In addition, all windows will be cleaned from the inside and we will clean the mirrors too. The trash will be removed, as well as the cobwebs if there are any. All sills, picture frames, ledges, and skirting boards will be dusted and cleaned, and all cupboards will be wiped up inside and out. The final step is a good wipe of all doors and door handles, removing visible dirt and handprints.
Bathroom
Mirrors, fixtures and frames, as well as all surfaces and the floors inside the bathrooms of your dwelling will be scrubbed clean and disinfected. We will also de-lime and de-scale the sinks, toilets, baths, shower doors and curtains.
Living Areas
The floor cleaning includes vacuuming carpets or mopping hard floors in the living area, and we'll also clean all windows from the inside. All of your cupboards will be cleaned both inside and out, all cobwebs will be removed, and we will clean and disinfect all other surfaces, as well as lightly wiping away the most obvious dirt on walls.
Hallway and Entrance
All hallway and entrance area windows will be cleaned internally and the floors will be mopped or vacuumed. We'll remove any cobwebs from walls and ceilings, as well as wipe down all skirting boards, doors and frames. Cupboards and fixed mirrors will be cleaned and dust will be wiped away from the walls.
Call us when you are at the end of the lease and we will take all the hard work off your hands, and we'll do our best to secure the return of your security bond. You can reach us anytime by calling on 02 9191 6436 and one of our representatives will help match your needs to our preferred list of end of lease cleaning services in Sydney. You can also request service online here.
Testimonials
Your workers were fast, friendly and affordable. We will be happy to use you again!
Our security bond was returned in full. Your end of lease cleaning was perfect, and the rates were affordable
Please thank your carpet technician for an excellent job. I will certainly be using your services again and I will also recommend you to other people.